We can look back at 2020 as the year precious metals regained their luster. and prices went up by about 20% and 43%, respectively during that period.
We recently global silver miner Fresnillo (OTC:) (LON:). That stock could appeal to investors interested in silver's bull run. Since the white metal has extensive industrial applications, it is another popular way to invest in shiny metals.
Today, we'll introduce several exchange-traded funds (ETFs) that could pique the interest of readers who would like to have exposure to various metals through funds.
1. SPDR Gold Shares
Current Price: $173.37
52-Week Range: $136.12 – $194.45
Expense Ratio: 0.40%
In August 2020, gold prices hit an all-time high, reaching almost $2,100 an ounce. At the time, the yellow metal's performance outstripped the gains of the technology-heavy index. Since then, gold has given back some of the gains, whereas broader markets have continued the march to record highs.
Financial planners usually recommend allocating 5%-10% of an investment portfolio to precious metals like gold. Buying the physical asset is one possibility. Alternatively, one could buy an ETF that tracks the price of gold, such as the SPDR® Gold Shares (NYSE:).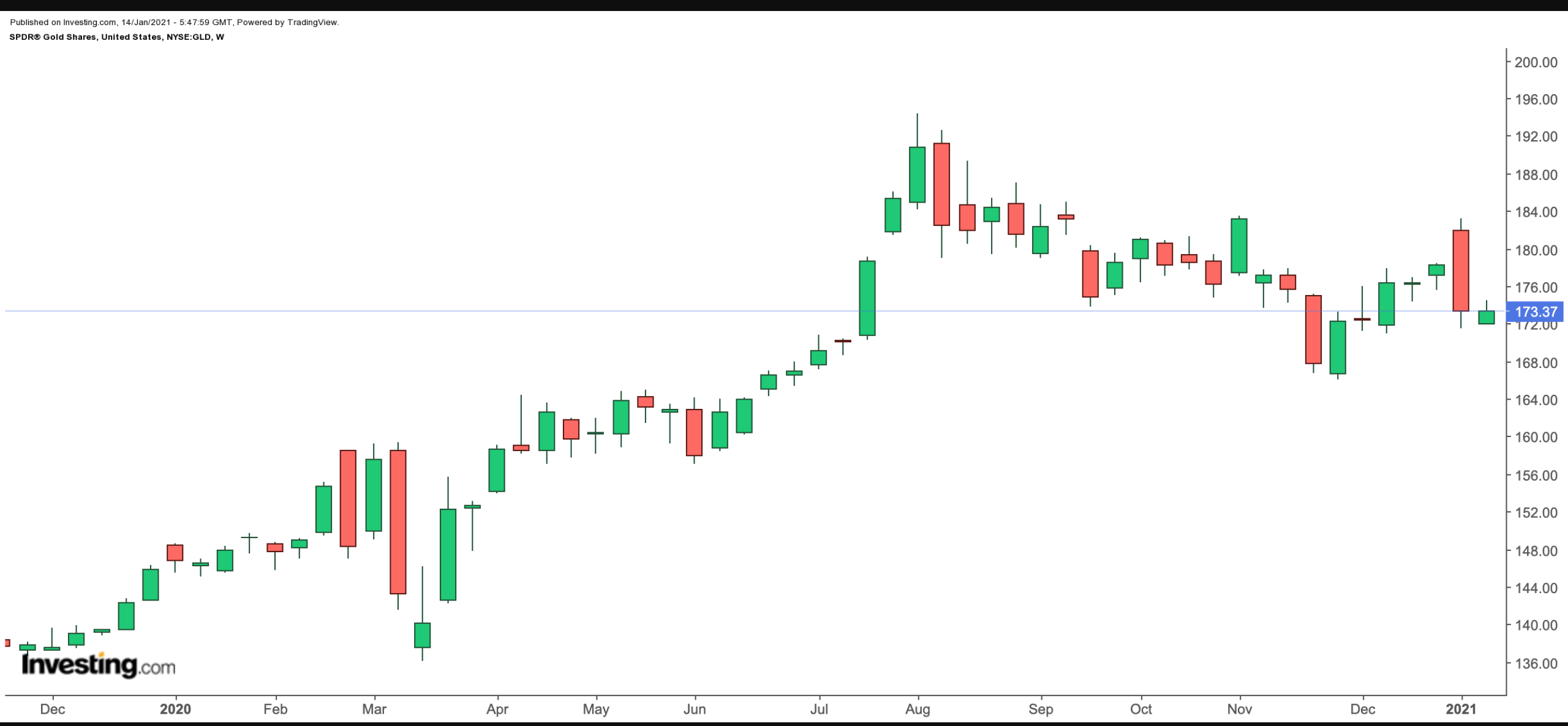 GLD started trading in November 2004. In the past 52 weeks, it is up about 19%.
In the coming days, the $165-level is likely to act as support and the $185-level as resistance. If bulls have the upper hand, then $190 may well be the next target. Many analysts concur that early 2021 remains a wild card.
We expect gold to make another attempt at $2,100 in the coming quarters. Therefore, we'd consider buying the dips in GLD. Catalysts for continued price increases could include a weak , continued support from central banks, especially the Federal Reserve, and mountains of government debt.
On the other side of the equation, the bear case for gold, in part, rests on life returning to normal following large-scale vaccination efforts. As the fear of the pandemic recedes and economies reopen, the demand for precious metals could tumble.
Finally, options are also available that could help put together more sophisticated strategies.
2. VanEck Vectors Rare Earth/Strategic Metals ETF

Current Price: $74.86
52-Week Range: $23.91 – $79.67
Dividend Yield: 1.58%
Expense Ratio: 0.50%
The VanEck Vectors Rare Earth/Strategic Metals ETF (NYSE:) gives access to businesses that produce, refine or recycle rare earth and strategic metals and minerals.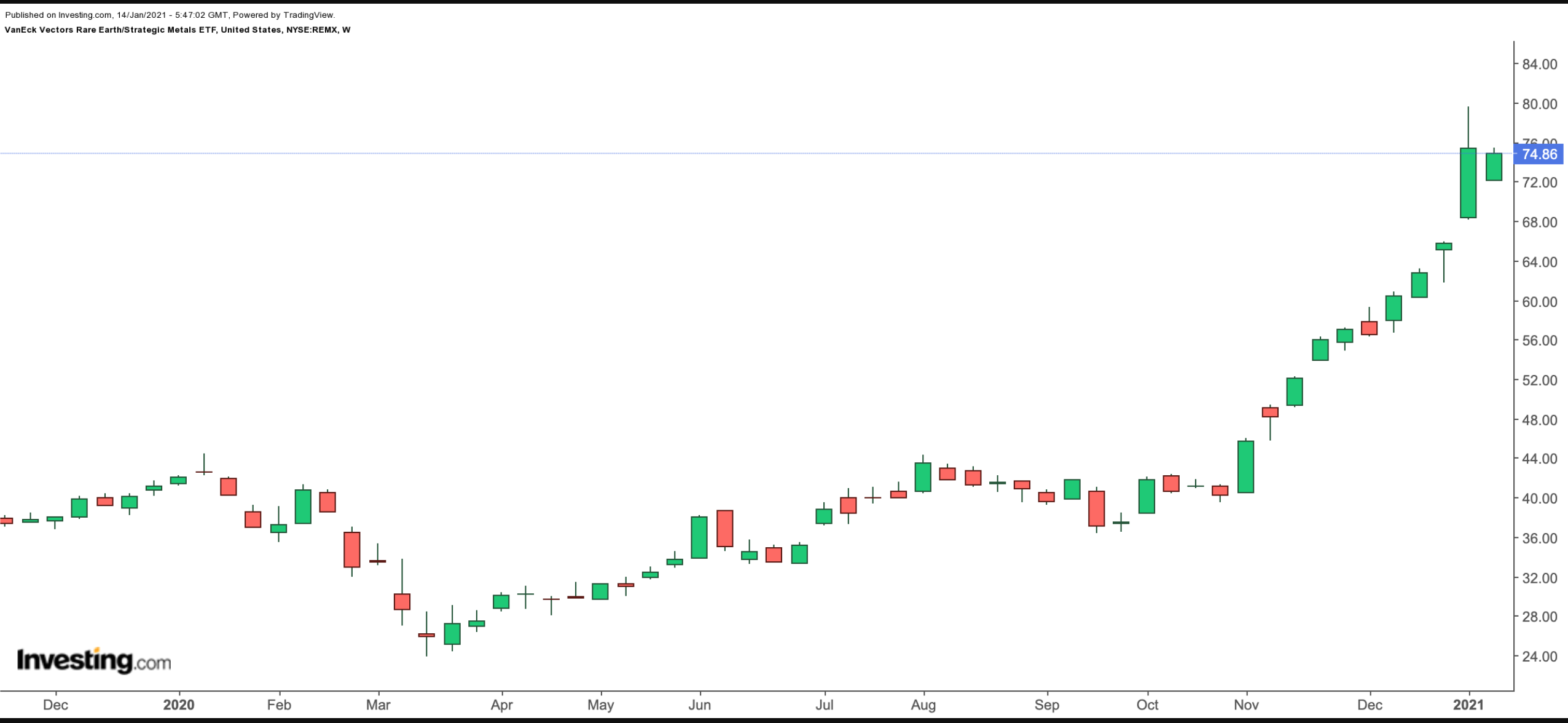 Recent research by Rajive Ganguli and Douglas R. Cook of the Mineral Industry Research Laboratory, University of Alaska Fairbanks, Alaska, highlights:
"Rare-earth elements (REEs) have become important over the last century as their electrochemical, magnetic, alloy strengthening and luminescent characteristics are at the core of manufactured modern electric vehicles, green energy generation, electronics and high performance airframes…. Though rare earths are present in most parts of the world, they are produced mostly in China."
Geologist Hobart M. King, Ph.D., also notes:
"When China began selling rare earths at very low prices in the late 1980s and early 1990s, mines in the United States were forced to close because they could no longer make a profit. When China cut exports in 2010, rare earth prices skyrocketed."
Most of us would find it difficult to recognize many of these metals or minerals. From the periodic table, they include names like cerium (Ce), europium (Eu), lanthanum (La), neodymium (Nd), promethium (Pm) and samarium (Sm).
Also, the U.S. Geological Survey lists 35 mineral commodities as critical for the functioning of the economy. Consumers shopping for smartphones, flat-panel televisions, electric vehicle (EV) batteries or next-generation light bulbs would be interested in knowing that REEs or strategic metals are typically used in these products.
The VanEck Vectors Rare Earth/Strategic Metals ETF (NYSE:), which has 20 holdings, started trading in October 2010. The fund tracks the returns of the index, which is balanced quarterly. Assets under management are $418 million.
China-based companies head the ETF roster with 46.14%, followed by Australia (26.08%) and the U.S. (11.61%). The 10 largest stocks constitute more than 60% of the fund. Leading names include Zhejiang Huayou Cobalt Co Ltd (SS:), China Molybdenum (SS:), Lithium Americas Corp (NYSE:), China Northern Rare Earth Group High-Tech (SS:), Ganfeng Lithium (HK:) and Lynas Rare Earths (OTC:).
Along with our reliance on high-tech products, the importance of this niche sector is growing. In the past 52 weeks, REMX has returned about 76%. Buy-and-hold investors could consider buying the dips. Like GLD, options are available on REMX.